Support the Museum through our T-Shirt Fundraiser
We ran a live campaign on Bonfire.com to raise funds for the Children's Museum. While we plan to run future campaigns through their platform, we also used the first one to restock our in house gift shop! Purchase a shirt and help support the Museum by stopping in or calling today.
​
22 Railroad Square
Great Falls MT 59405
(406)452-6661
Youth sizes available in house.
T-Shirts not your thing?
No problem! You can still donate directly to the Children's Museum using the PayPal button below.
Our Museum was started over 20 years ago by a group of dedicated community volunteers. Throughout our history, groups and individuals have come forward with kind hearts and ready hands to give what they can to our organization. Without them, we truly would not succeed in our mission of serving the children and families who walk through our doors.
​
Volunteers are needed for a variety of tasks and events year round. Whether you are a skilled tradesman looking to assist with a project, or just looking for lend a hand or two painting or helping update an exhibit, we at the Museum are always incredibly grateful for the extra help.
​
Click the button below for more information on volunteering at the Museum or to join our volunteer contact list.
​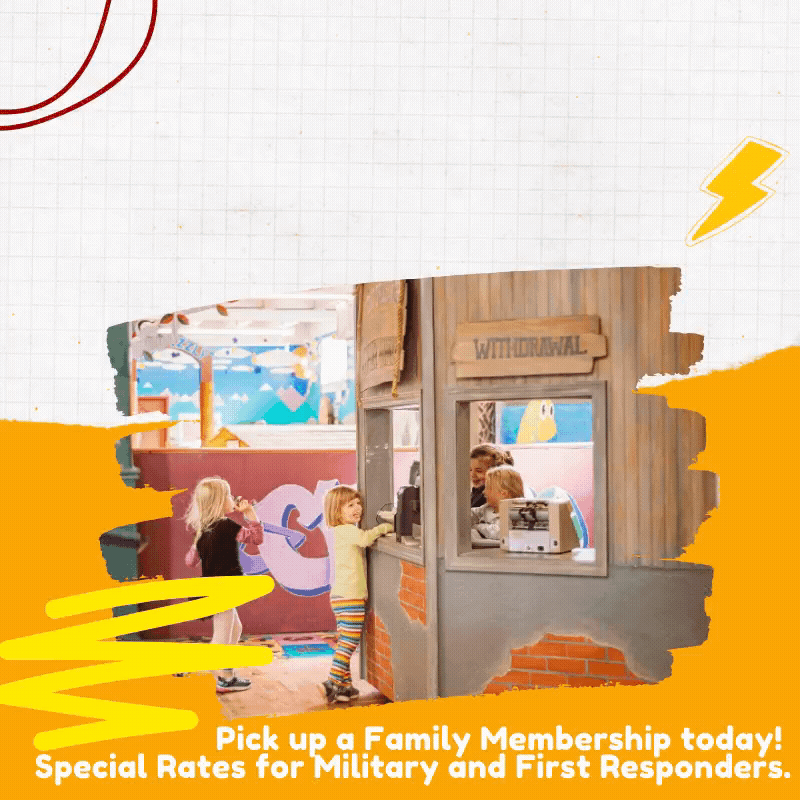 Enjoy special discounts on birthday parties, exclusive access to member's only events, and first-look opportunities into new projects, upcoming programs, and other important Museum information!
​
Rates:
​Family Membership - $90

One year, unlimited admission. Covers two adults and all children living in the household.

Hero Membership - $80​

One year, unlimited admission. Family membership with discount for military and first responders.​

Grandparent Membership - $75

One year, unlimited admission. Covers up to 2 grandparents​ living in the same household and -all- grandchildren. Does not cover parents of the grandchildren.

3 Month - $40​

3​ months of unlimited admission for two adults and all children living in the household.

Add On - $15​

Add an approved user to your membership. Great for babysitters, nannies, or those wishing to add grandparents to an existing ​membership.