COVID-19 Prevention Measures
Call today to schedule your next visit to explore our recent upgrades, updates, and additions!
We have made changes to our programs to ensure social distancing between patrons and the sanitation of materials and surfaces.
​
Our organization is also a certified COVID-19 Prevention Partner of the City-County Health Department. Our certification is displayed on our door and in our lobby.
Support the Museum through our T-Shirt Fundraiser
We ran a live campaign on Bonfire.com to raise funds for the Children's Museum. While we plan to run future campaigns through their platform, we also used the first one to restock our in house gift shop! Purchase a shirt and help support the Museum by stopping in or calling today.
​
22 Railroad Square
Great Falls MT 59405
(406)452-6661
Both youth and adult sizes are available.
T-Shirts not your thing?
No problem! You can still donate directly to the Children's Museum using the PayPal button below.
Camp hours are extended this year to help accommodate working parents. All of our activities are planned with STEAM (science, technology, engineering, art, and math) education in mind.
When we aren't hard at work in the classroom, campers will have access to free play in the Museum and let their hearts and minds wander as they imagine themselves as doctors, dentists, constructions works, or underwater divers!
Spots are limited, call (406) 452-6661 today to book.
​
Toddler camps feature age based sensory play with each session. Prepare to get a little messy- you never know what you will encounter. Dinosaurs buried in gelatin, tempera paint fireworks, and more!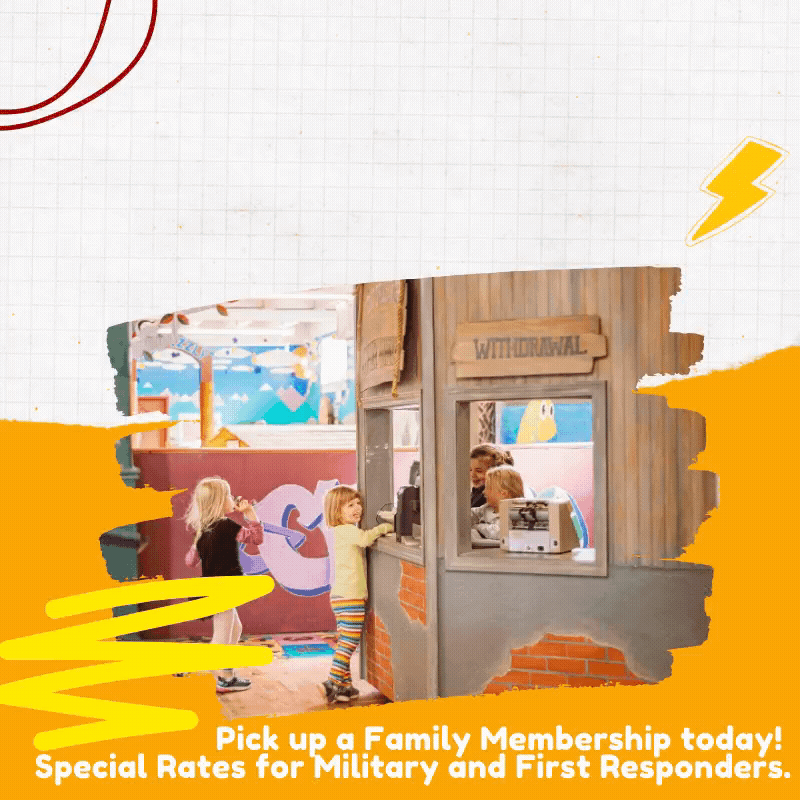 Enjoy special discounts on birthday parties, exclusive access to member's only events, and first-look opportunities into new projects, upcoming programs, and other important Museum information!
​
Rates:
​Family Membership - $90

One year, unlimited admission. Covers two adults and all children living in the household.

Hero Membership - $80​

One year, unlimited admission. Family membership with discount for military and first responders.​

Grandparent Membership - $75

One year, unlimited admission. Covers up to 2 grandparents​ living in the same household and -all- grandchildren. Does not cover parents of the grandchildren.

3 Month - $40​

3​ months of unlimited admission for two adults and all children living in the household.

Add On - $15​

Add an approved user to your membership. Great for babysitters, nannies, or those wishing to add grandparents to an existing ​membership.